ICE Announce New Joint CEO: Thorsten Sauer
17 April 2018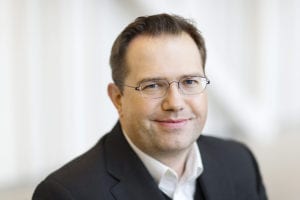 ICE today announced plans to merge the ICE companies and the appointment of a new joint CEO: Thorsten Sauer.
Previously the President of Broadcast and Media Services at Ericsson, Thorsten helped build one of the largest media services companies in the industry, serving clients such as the BBC, ITV, Disney and Viacom. Thorsten said: "I am delighted to be joining ICE and look forward to working with an experienced team and organisation that is so highly regarded in the industry. I believe that by combining the strength of the different ICE companies, we are in a great position to deliver best-in-class services to the industry in these exciting times."
The two companies, ICE Services, which licenses the rights mandated to it by both collecting societies and publishers, and ICE Operations, which manages both online operations and copyright, will be merged into a single entity, which will be known simply as ICE.
Rainer Minz, Chairman of the ICE Boards said: "Since its inception, the vision of ICE has been to serve our customers in the multi-territory music licensing market through a flexible suite of services designed to speed up online licensing, online processing and operating the largest aggregation of repertoire from the world's most advanced copyright database."
Robert Ashcroft, CEO of PRS for Music, was Interim CEO of ICE for the UK and will continue to support ICE as a board member, while Markus Nees, who held the position of CEO of ICE for Sweden and Germany, will continue in the leadership team as COO.
END
Contact
Hayley Miller, Marketing and Communications Manager: hayley.miller@uk.icerights.com or call +44 0207 741 4919.
About ICE
ICE offers a flexible suite of services for Publishers, Collection Management Organisations (CMOs) and Rightsholders. Services include; copyright administration, multi-territorial online licensing processing and licensing solutions for Digital Service Providers. ICE was created by PRS, STIM and GEMA and represents over 290,000 rightsholders alone through this partnership. The ICE copyright database holds over 32 million musical works. ICE is based in the UK, Germany and Sweden.
About PRS for Music
PRS for Music represents the rights of songwriters, composers and music publishers in the UK and around the world. As a membership organisation, the company ensures creators are paid whenever their music and songs are played, performed, broadcast or reproduced in public and provides business and community groups with access to 22.2 million songs through its music licences. With over 100 representation agreements in place globally, PRS for Music's network represents over two million music creators.
https://www.prsformusic.com/
About STIM
STIM is a Swedish collective management organization for music creators and publishers. On their behalf, STIM administers and licenses performing and mechanical rights to music and lyrics. STIM is a non-profit organization representing 84,000 songwriters, composers, text authors and music publishers worldwide.
www.stim.se
About GEMA
GEMA represents in Germany the copyrights of more than 69,000 members (composers, text authors and music publishers), as well as over two million copyright holders from all over the world. It is one of the largest societies for authors of works of music in the world.
www.gema.de